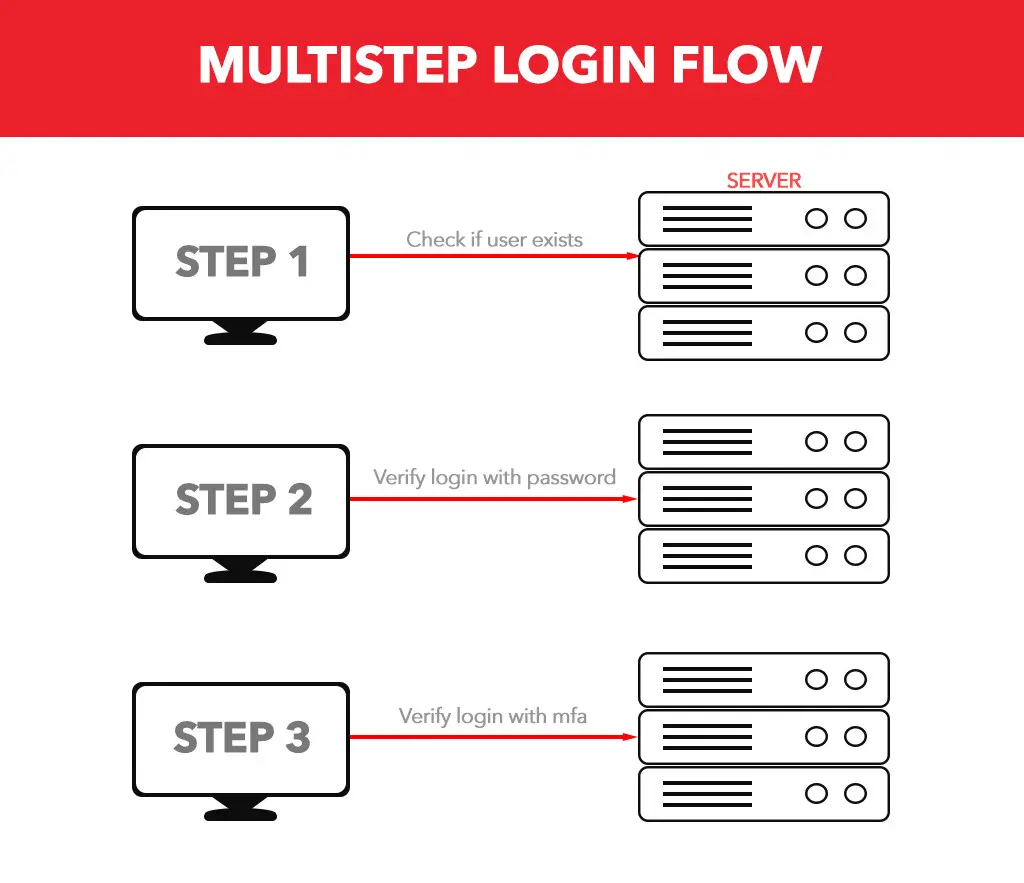 What is a multistep form?
A multistep form is a form presented to the user in steps. Appropriate for long fillables, preform checks at regular intervals and verify the authenticity ith recaptcha etc. Now-a-days web security is a growing concern and as a result, development standards are changing.
In this template, I've designed a multistep form with three steps. In first step, you can verify if the user ID exists, in second step, verify the password and in third step, ask the user to verify the 6 digit code sent to their email or mobile phone.
See Demo
Process
This template contains all the front-end design code you need. In the javascript, I've simulated the server response wait using setTimeout function. Replace it with ajax or fetch as per your requirement. If you would like get the code for it as well, see the form submission.
View code

.slider {
    vertical-align:top;
    display:inline-block;
    width:100%;
    transition: all 200ms linear;
  }
  #slideOuter {
    padding-right:3px;
    width:320px;margin:20px auto;
    white-space:nowrap;
    overflow:hidden;
  }
  .toggleStep_1 .slider {
    transform : translateX(-320px)
  }
  .toggleStep_2 .slider {
    transform : translateX(-640px)
  }
  #currentUser {
    text-overflow : ellipsis;
    overflow: hidden;
  }
  .mfa {
    width:40px;
    height:40px;
  }

<div id="slideOuter">
    <div>
      <div class="pb-2 text-center"><h1 class="h4">Login</h1></div>
      <div id="customMessage" class='text-center text-danger'>

      </div>
      <div class="slider py-2">
        <form onsubmit="event.preventDefault();verifyUser()">
          <div class="form-floating mb-2">
            <input type="email" class="form-control" id="userid" placeholder="name@example.com" required>
            <label for="userid">Email address</label>
          </div>
          <div class="text-center">
            <button id="nextButton" class="btn btn-primary w-100 btn-lg">
              <span class="align-middle">Next</span>
            </button>
            <div class="visually-hidden" id="loadingSpinner1"><span class="spinner-border align-middle" role="status" style="font-size:6px"></span></div>
          </div>
        </form>
      </div>
      <div class="slider">
        <div class="text-secondary px-2 py-2 text-center" id="currentUser"></div>
        <form onsubmit="event.preventDefault();login(this)">
          <div class="form-floating mb-2">
            <input type="hidden" name="userid" id="currentUserid" />
            <input type="password" name="password" class="form-control" id="password" autocomplete="current-password" placeholder="password">
            <label for="password">Password</label>
          </div>
          <div class="text-center">
            <button id="submitButton" class="btn btn-success w-100 btn-lg">
              <span class="align-middle">Submit</span>
            </button>
            <div class="visually-hidden" id="loadingSpinner2">
              <span class="spinner-border align-middle" role="status" style="font-size:6px"></span>
            </div>
          </div>
        </form>
      </div>
      <div class="slider">
        <div class="text-secondary px-2 py-2 text-center">Enter the 6 digit code sent to your email</div>
        <form onsubmit="event.preventDefault();multiFactor(this)">
          <div class="mb-4 mt-2 text-center">
            <input type="text" class="text-center mfa" onkeyup="nextFocus(this,'mfa2')" name="mfa1" id="mfa1" required >
            <input type="text" class="text-center mfa" onkeyup="nextFocus(this,'mfa3')" name="mfa2" id="mfa2" required>
            <input type="text" class="text-center mfa" onkeyup="nextFocus(this,'mfa4')" name="mfa3" id="mfa3" required>
            <input type="text" class="text-center mfa" onkeyup="nextFocus(this,'mfa5')" name="mfa4" id="mfa4" required>
            <input type="text" class="text-center mfa" onkeyup="nextFocus(this,'mfa6')" name="mfa5" id="mfa5" required>
            <input type="text" class="text-center mfa" name="mfa6" id="mfa6" required>
          </div>
          <div class="text-center">
            <button id="verifyBtn" class="btn btn-info w-100 btn-lg">
              <span class="align-middle">Verify</span>
            </button>
            <div class="visually-hidden" id="loadingSpinner3">
              <span class="spinner-border align-middle" role="status" style="font-size:6px"></span>
            </div>
          </div>
        </form>
      </div>

    </div>
  </div>

var nextBtn = document.getElementById('nextButton')
  var loadingSpinner1 = document.getElementById('loadingSpinner1')
  var loadingSpinner2 = document.getElementById('loadingSpinner2')
  var loadingSpinner3 = document.getElementById('loadingSpinner3')
  var slideOuter = document.getElementById('slideOuter')
  var submitButton = document.getElementById('submitButton')
  var verifyBtn = document.getElementById('verifyBtn')


  var userid = document.getElementById('userid')
  var password = document.getElementById('password')

  function verifyUser(){
    var uid = userid.value
    document.getElementById('currentUser').innerText = uid
    document.getElementById('currentUserid').value = uid

    nextBtn.style.display = "none"
    loadingSpinner1.className = 'my-4'
    setTimeout( function(){
      slideOuter.className = 'toggleStep_1'
    }, 1000 )
  }

  function showMessage(msg){
    var cmsg = document.getElementById('customMessage')
    cmsg.innerText = msg
    setTimeout( function(){ cmsg.innerText = ""  } , 3000 )
  }

  /* Use this function to go back from step 2 to step 1
  function goback(){
    nextBtn.style.display = "inline-block"
    loadingSpinner1.className = 'visually-hidden'
    slideOuter.className = ''
  }
  */

  function login(e){
    submitButton.style.display = "none"
    loadingSpinner2.className = 'my-4'
    setTimeout( function(){
      slideOuter.className = 'toggleStep_2'
    }, 1000 )
  }

  function multiFactor(e){
    verifyBtn.style.display = "none"
    loadingSpinner3.className = 'my-4'
  }

  function nextFocus(e,tgt){
    if(!isNaN(e.value)) document.getElementById(tgt).focus()
    else e.value = ""
  }